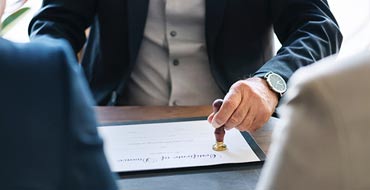 Legal support is very important in business – we offer comprehensive legal services for small, medium and large companies, from very different economic branches. We provide emergency assistance and are willing to establish long-term cooperation based on trust and friendly atmosphere.
The scope of our activities:
• legal servicing of businesses,
• preparation and verification of contracts
Legal advice – legal assistance for every stage of running a business
We offer professional advice at every stage of cooperation. We constantly monitor new legal regulations and check how they work in the day-to-day operation of the company. We are here to advise in difficult business situations, to participate in important negotiations with your customers. We give you piece of mind, and the sureness of good of your company. We also provide counseling services in the field of employment of foreigners in Poland.
Representing the company
We will take care of your brand's good name – so you can focus on completing your orders. We represent companies we cooperate with in offices, courts, and in important matters. We will represent your company in negotiations, business disputes. We represent every company in front of the Tax Office and Insurance Authority, we prepare the necessary documentation and deliver it to the respective unit.
Preparation, analysis, submission and receipt of documents and reports
Order in company papers – guarantee of effective work. We prepare company documents, analyzes and reports – your company documentation is in good hands. We supervise the proper functioning of the HR and accounting departments. We draw up contracts with clients and business partners, based on current industry standards. We prepare reports for the needs of external companiesrepresent the company in front of inspection authorities.
Representing the company in front of inspection authorities
Inspection is something that can always happen in your business. We represent the company in front of inspection authorities – we conduct talks, collect important documentation for review, and present them all to inspection authorities. We react and act in the event of any problems.
Check out our offer today. Contact us and we will introduce you to the form and individual stages of our work. The scope of legal services provided to a company is tailored to its needs, character and industry standards.